Early Adopter Bonus Campaign: First come, first served, with a total of 8,888 ADA+10% returned! Maximum cashback of 2,500 ADA per person.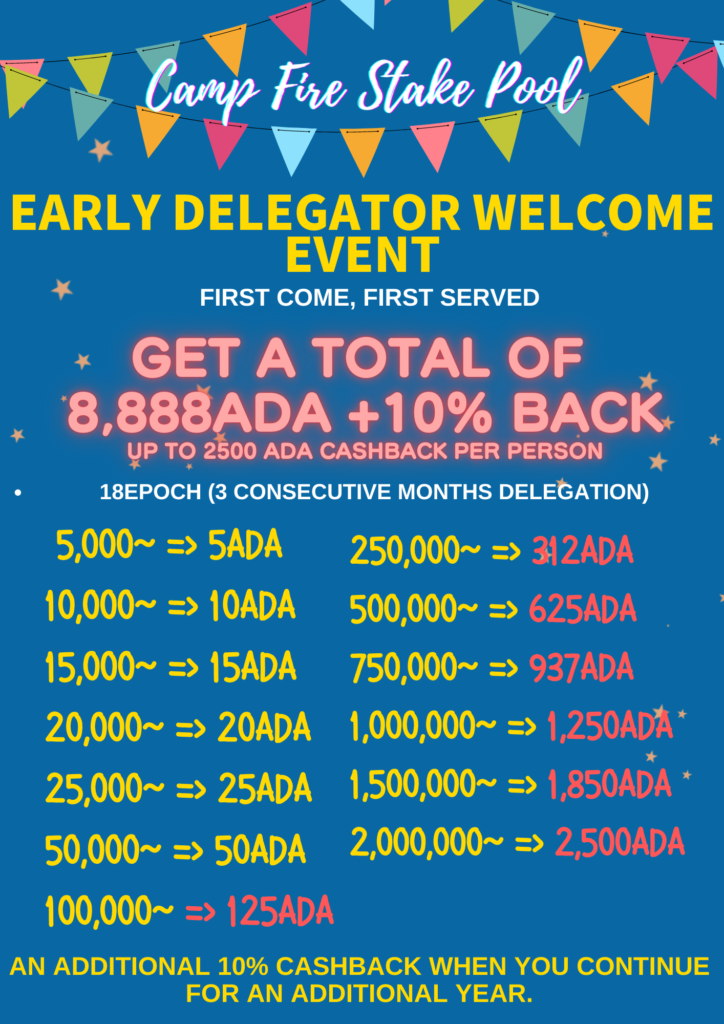 The CAMP pool is a new pool that started in January 2023.
We have achieved the generation of the first block within a few epochs of launch!
Unfortunately, we just launched and don't have enough delegators yet.
We are implementing a large ADA return campaign to gather delegators.
We have researched past campaigns and set the highest return rate and upper limit in history, surpassing those.
We will distribute a substantial amount of ADA, so please consider delegating!
It's first come, first served, so please consider it as soon as possible! The campaign will end when the planned number of participants has been reached.
Campaign Overview
We will give a gift of ADA according to the reward amount to the initial delegators who delegated for 18 epochs (approximately 3 months).
And furthermore!
After the gift distribution, if you continue for 72 epochs (1 year), we will additionally distribute an additional 10% of the reward amount (determined based on the delegation amount at the 72nd epoch).
During the early stages when the pool's delegation amount is low, block generation may not be possible every epoch. However, if you continue to delegate for a certain period of time, the reward rate will become the same for all pools, and you can get a large return by continuing to participate.
Amount of a delegation
Amount of compensation
5,000

5ADA

10,000

10ADA

15,000

15ADA

20,000

20ADA

25,000

25ADA

50,000

50ADA

100,000

125ADA

250,000

312ADA

500,000

625ADA

750,000

937ADA

1,000,000

1,250ADA

1,500,000

1,850ADA

2,000,000

2,500ADA

After distribution, 72 epochs continued

+10%

(Determined by the amount of delegation at 72 epochs)
How to apply
Please fill out the necessary information, such as "Delegation Amount", "Twitter or Contact Information", "Receiving Address of the Delegated Wallet", etc., on the Google Form at the following link.
If you have difficulty using Google Forms, please contact us via the operator Twitter or our Contact!
Conditions and Notes
Payment in full after 18 epochs (3 months) from the appointed epoch.
If there is an increase or decrease in the delegated ADA, the minimum value will be deemed as the delegated amount.
One person, one time, one wallet only.
If the receiving address is incorrect, resending is not possible (please make sure to double-check).
During the campaign, delegation up to 1 million ADA is eligible for 0% pool fee. The 0% fee will continue even after the campaign period. After the campaign, pool fee will be 1% for delegation over 1 million ADA.
If the delegation is revoked in the middle, it will become invalid.
Amounts less than 1ADA are rounded down.
The +10% additional gift will be determined based on the delegation amount at the 72nd epoch.
Camp Fire Stake Pool
[Name] Camp Fire Stake Pool
[Ticker] CAMP
[ID] pool1qmsck80ldwm23t4t5elxc857r82ph3urkt7tpyq65ntn2dv2ust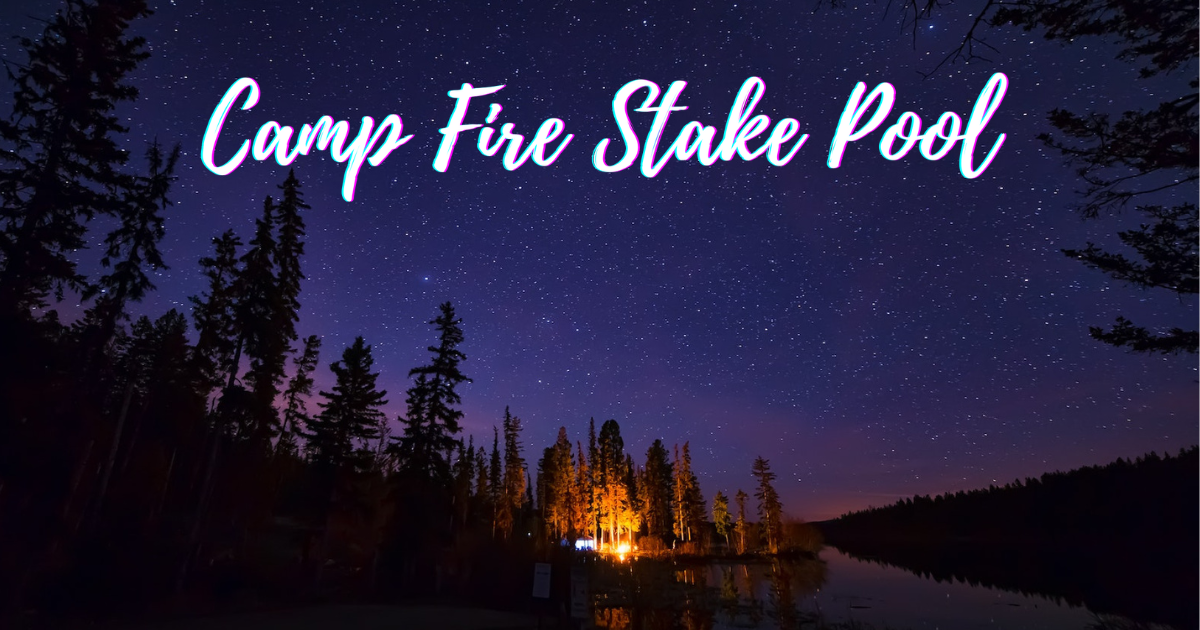 WHY THE CAMP FIRE STAKEPOOL?
Charity Fundraising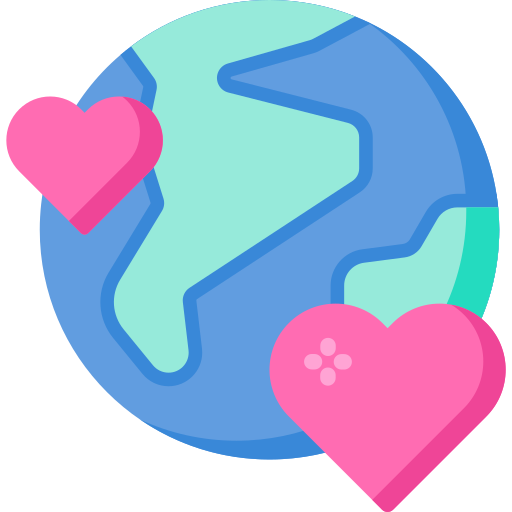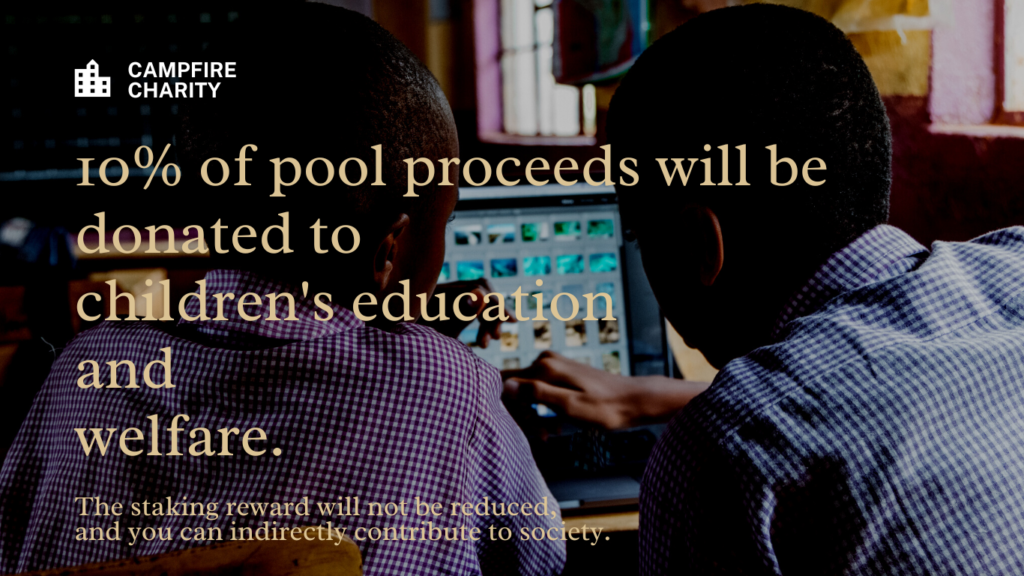 Donate 10% of pool profits to child education and welfare, mainly in Africa
Donations will be made from the pool's profits without affecting the staking rewards of delegators.
By staking with [CAMP], you can indirectly participate in our social contribution activities.
As more delegations are received, the amount of donation will increase. If you agree with our mission, please consider delegating to our pool.
Contact Us
Please contact us through "Contact" or "TwitterDM" on this website.
STAKING Q & A
What is Cardano (ADA)?

Cardano is a third-generation, decentralized proof-of-stake (PoS) blockchain platform, and ADA is the token of the Cardano blockchain. Cardano is the first blockchain platform to take a scientific philosophical and research-driven approach. Cardano is built through the review of prestigious academic institutions worldwide.

To learn about the world that Cardano aims for, it is recommended to watch a video by the founder, Charles Hoskinson, who has Japanese subtitles, so please take a look.
What is Cardano (ADA) Staking?

Staking is the act of delegating your ADA to a staking pool, which operates a network node. The staking pool can validate Cardano transactions and generate blocks on your behalf, in return for rewards.

Staking in Cardano only delegates your "rights" to the staking pool while keeping your ADA. This means that your ADA is not locked, and you can still use it at any time.

Staking with an exchange, on the other hand, carries the risk of being unable to withdraw your ADA and could lead to centralization of ADA in one place, reducing the decentralization of the Cardano network.

If you are asked to "send an ADA" or "give a seed phrase," please be aware that this is a scam.
Where can I start staking?

You can delegate from the following Cardano Wallet.
When will I receive my reward after I delegate? Do I always get paid every epoch?

Rewards are paid after three epochs (15-20 days) after the initial staking epoch has ended. The following example shows the events that occur at the time of staking:

Rewards are not guaranteed to be received every epoch, and rewards are given to pools that have generated blocks based on the algorithm calculation based on the pool delegation amount. Pools with more delegations tend to receive stable rewards every epoch, while pools with fewer delegations and lower rewards tend to receive fewer rewards, but the reward amount is greater in one-time rewards. Over a certain period of time, the reward rate converges to the same value.

If delegation of ADA is biased towards places with high delegation amounts, it is not distributed and is not secure, which is not good for the long-term value of ADA. Please delegate to pools with less delegation for the long-term value of ADA.

Epoch2

Epoch snapshot (record ADA delegated here)

Epoch3

Block generation (if pool has allocation)

Epoch4

Calculation of rewards for block generation
What are the pool fees?

There are two types of fees: "Margin fee" and "Fixed fee." From now on, the pool will receive its reward from the total reward of the pool and distribute the remaining ADA to the delegators.

Margin fee

This is a fee set by each pool between 0-100%; 1-5% is common. The Pool sets the rate of return at 0% until 1 million ADA mandates are collected for diversification purposes.

Please be aware that the fee is not too high, such as 99%, and that the fee is not quietly raised in the middle! In this pool, the fee is 0% for less than 1 million ADA and a guaranteed 1% for anything above that.

Fixed fee

The fixed fee has a minimum value of 340 ADA. There are no plans to change this minimum value of 340 ADA in this pool. Please always check the fixed fee when delegating to other pools.
Is there a cost for staking?

Staking incurs a deposit fee of 2 ADA and a transaction fee. When you un-stake, the deposit fee of 2 ADA will be refunded.
Is it necessary to re-configure if there is an increase or decrease in ADA after staking?

It is automatically reflected, so no additional operation is required. Cardano staking allows for free sending and receiving even after staking.

Of course, if you leave the rewards earned from staking in your wallet, they will be reinvested.
Is it disadvantageous to delegate to a pool with fewer delegations?

委任量が多くても、少なくてもアルゴリズム上長い目でみると平均約4%程度です(2023年現在)。

委任が多いプールはエポック(5日)ごとに報酬が安定してでますが、委任の少ないプールは毎エポックでない等波がある一方で、1回の報酬が高くなり平均すると同じ利率に収束するアルゴリズムになっています。

ADAの広く分散することでカルダノブロックチェーンのセキュリティも高まるため、長い目でみて委任の少ないプールにもぜひ分散委任のご協力をお願いします。

Whether there are many or few delegations, the average reward rate is about 4% in the long run (as of 2023).

Pools with many delegations have stable rewards every epoch (5 days), while pools with fewer delegations may have waves of non-rewards every epoch, but their reward rate will converge to the same average rate when their one-time reward is high.

For the security of the Cardano blockchain, it is important to have a wide distribution of ADA, so please consider decentralizing your delegation even to pools with fewer delegations in the long run.

Note that the 4% annual reward rate is gradually decreasing, just like the halving in Bitcoin.

Yes, similar to the halving of Bitcoin, the reward rate in Cardano is also gradually decreasing over time. The reward rate of 4% per year is not a constant and is subject to change as the Cardano blockchain evolves.
What is the minimum amount of ADA required for staking?

You can start staking with 10 ADA.
What is pool saturation?

The saturation of one pool is 64 million ADA as of January 2023. If you continue delegating to a pool that exceeds this amount, the rewards you receive from staking in that pool will decrease because the rewards from one pool will not change, even though the number of delegators will increase.

This system ensures decentralization as holders seek profits and naturally delegate to different pools.
Can staking be unstaked?

Yes, staking can be unstaked at any time. If you want to delegate to a different pool, you can simply delegate again without unstaking. If you unstake, the original 2 ADA deposit that you paid will be returned, but a small transaction fee will be charged.
How can I check my remuneration?

There are two ways to do this

Check the Wallet for Cardano page
Enter the receiving address on the Cardano Explorer site to confirm.
I'd like to know the steps to staking.